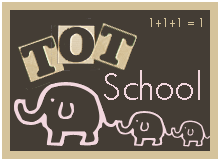 Month: November
Theme: Fall
Dates: 11/27 to 12/2
The Lessons
I've been scouring the Internet looking for free educational games Bobo can play on the computer. We love using the Early Literacy computers in the Children's Department at the Main Library. I wanted something similar to play at home. I don't know why I didn't think about borrowing a CD-ROM before, except I thought it would be tricky to get onto my computer. I overcame my fear and borrowed
A to Zoo
a Sesame Street game. It was so easy to get on my computer. Bobo worked on letters, colors and rhyming. He played it everyday.
The Activities
Bobo still loves stamping, so I found an activity to enable him to paint his body and stamp. Perfect activity! He made a Fall tree, so we used orange, yellow and red stamp pads. We had to mix paint to make a brownish color for the trunk, since I didn't have brown paint. I helped him paint his arm and hand to form the trunk. Then, he stamped leaves on the paper.
The Fall Sensory Box still isn't as big of a hit as the Halloween box, but Bobo did have fun with it. He counted, worked on fine motor skills by using the tongs and identified letters to put on the board.
One of Bobo's favorite activities is still playing with Pay-Doh, yes, the store-bought kind. He received a huge package of it last year for Christmas. We have all wood flooring, so I don't sweat using it all over the house. Since we have so much of it, I'm not worried about losing some or it drying out. However, I've been wanting to experiment with the scented dough. The blogs I follow have said the texture is different when you make it yourself. So, we made Pumpkin Play Dough.
This is also a great alternative to making cookies, which works on the same skills (measuring, counting and stirring). After we were done smooshing and mashing, we used it to identify the numbers 1 to 5. Then, we put them in order. We put the correct number of "candies" on each "cookie". Bobo used his play dough scissors to cut the dough. This is the first time I've seen him hold his scissors correctly without prompting. YAY!
I used some Fall printables to work on matching and sorting. Again, there is so much lag between printing, doing and posting that I don't remember where the materials came from but check out the blogs I follow to find similar items, if not the same materials. Bobo used the Fall shadow matching prints, Fall word match and Apples/Leaves sorting.
Field Trip
Ok, so we just went to the library. We attended the weekly Play Date and had lots of fun learning and playing with other children. We played with the Dinosaur Sensory Bin. I used "floam" for the water and earth part of the box. Then placed small dinosaurs and trees. Some of the other children came over to see what we were doing. We all worked on counting, colors and vocabulary.
Bobo dressed up like a cowboy using a hat from the dress-up play box. He fingerpainted the Christmas countdown sheet. With all the activities set up, can you guess what the children decided to do?
Chase the baby! Bobo had a wonderful time chasing the baby around the toy squares. I will count this as a Large Motor activity.
The boys also turned the puppet theater into an ice cream shop. They pretended the pieces from the sensory puzzle were cups of ice cream.
We've been doing a lot with beads lately. I discovered he liked to lace beads onto a shoe string to make a rope. I've been having him bead chenille sticks to make candy canes and he's getting pretty good at it.
The Books
Over the River and Through the Wood
by L. Maria Child
Thanksgiving: Stories and Poems
Edited by Caroline Bauer