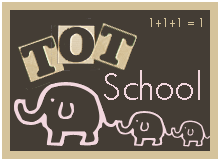 Month: December
Theme: Christmas
Dates: 12/4 to 12/10
Oriental Trading finally had a free shipping bonus, so we bought some new school supplies! I've had the penguin nesting dolls in my cart for ages, but didn't want to pay the shipping, which would cost as much as the item. I scored by waiting and got some other fun supplies in the process.
The Lessons
Bobo stamped the letter "S" sounds, like snake and shark. We practiced numbers by rolling our new foam dice and counting the dots to make a chain out of links. After it snowed, we went outside and sprayed red, yellow and blue on the snow in the backyard. He really wanted to eat the snow, but I couldn't do it. We have all kinds of animals running around back there. Maybe when the snow is thicker and we go in the front. Better yet, we'll make snow cones inside with ice from the fridge!
The Activities
The penguin nesting doll is Bobo's favorite activity for the month. He loves to pretend with them. We played hide-and-seek several times. One of us would close or eyes and the other would hide the baby inside one of the four left. This worked on color recognition and size.
We both made gingerbread men using the scented Play Dough we made a couple of weeks ago. We used beads to make eyes, mouth, nose and buttons. He enjoyed this activity and made lots of men.
I tried to introduce the concept of weaving by setting out Christmas ribbon and a cooling wrack. He did it perfectly but wasn't interested in continuing the activity. We haven't used it since the first day.
When I think of Christmas, I think of trains. With that in mind, Bobo assembled and played with his train puzzle. We bought this at Kohl's when he was obsessed with trains last year.
Crafts
I keep adding more craft supplies as I find good deals. Our craft area has grown and now has taken over a whole wall. Bobo explored his new craft area and said, "I need my scissors." He found lots of new things to cut, like yarn. He has mastered holding scissors correctly.
As you may already know, Bobo loves sidewalk chalk. We played with it everyday in the summer, most of the fall. Instead of putting it away for the winter, I set it out with the craft supplies. He asked if he could use it outside. I suggested using it on paper. He had no idea you could use chalk on paper! He's also been fascinated with drawing on black paper, so we explored what colors would work.
Sensory Bin
I made the winter sensory bin with Epsom Salt as the base. I added snowman cups (yes, they are ceramic and fragile, and YES, he did fine with them), a stretchy reindeer, santa ornament, santa smurfette, plush snowman and scoops. Bobo buried, scooped and poured with glee.
He had to get into the box, of course. No matter what is in the box, Bobo ends up in there as well eventually. He's making his "Don't take a picture," face, which consists of sticking out his tonge. The jokes on him, because I'm still going to use them. Ha-ha!
Field Trip
The boys and Grandma went to Indianapolis for the day. I stayed home and decorated the tree. I know they went to a mall and played in a children's area for a long time. Bobo made several friends and played with lots of children. What happened when he came home and saw the beautiful tree? Was he enchanted and amazed? "You hung up ALL the green ornaments?" said with a protruding bottom lip. Luckily, I had run out of hooks and still had some ornaments left to hang. We decorated the tree even more and hung up our special ornaments for the year. Bobo and Daddy put up the star as is tradition.
We also visited the Santa Train downtown and the Early Learning Center this week as I had a few days off work.
V-Tech
I don't remember what spurred it, but we got the V-tech V-Smile back out. Bobo received this system as a gift last year, but didn't have the skills to use it properly. He ended up throwing it, and we thought it was broken. Fortunately, it just needed new batteries and a new introduction. Now, Bobo is playing with it on a daily basis. He knows how to turn it on, off and reset as well as how to change games. He plays Kung-Fu Panda and Thomas the Train most often. It teaches letters, colors and logical thinking. We love it!