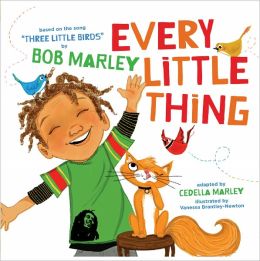 I am one of those moms who has struggled with getting her little one to sleep. My safest bet to lull him into oblivion has always been reggae music. I'm not sure if it's the rhythm, instruments or lyrics, but it works every time. One of my favorite songs to sing is "Three Little Birds" by Bob Marley.
Cedella Marley has adapted her father's song in a beautiful, whimsical way. I love the original lyrics because they are repetitive, which make it easy to remember when your child starts to melt down. The rhythm and beat is soothing with a hopeful message.
I thought this book would simply put illustrations to the words and was pleasantly surprised to find Cedella had made up new verses. They can still be sung to the original tune! The new parts follow a little boy to the playground, kitchen and bed. I will be purchasing a hardback version for our home library. What did Bobo think about the book? I'll let you know when he wakes up. Thanks Cedella!